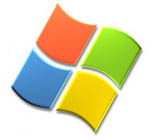 Decisamente interessante l'iniziativa di Microsoft di chiedere agli utenti (grafici e designer) di creare la grafica del prossimo Windows.
"The Challenge: Rethink the Windows-based PC experience today and the role it plays in people's lives. Envision how the digital lifestyle—from personal productivity at work or home, to entertainment, mobility, lifestyle and form—all play a part in development. Think big, be bold, and inspiring, but pay attention to sustainable technologies, and ecological and environmental innovation."
Premi e incentivi per i partecipanti:
Competition Award Categories & Rewards

Judge's Award - Prize $50,000 US
Selected by a distinguished panel of IDSA-member judges from the International PC and industrial design community.
Chairman's Award - Prize $50,000 US
Selected by Bill Gates, Microsoft Chairman and Chief Software Architect, with the assistance of his advisory committee.
Public's Choice Award - Prize $25,000 US
Selected by the public from among all approved entries via the virtual showroom in mid- to late November.
Se tra di Voi c'è un grafico in gamba, vale la pena provare.